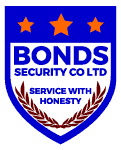 Bonds Security specializes in the design of security solutions, provision of security guards, consulting, vulnerability and risk assessment and private investigation.
–Today we are serving a wide range of national and international clients from residential, commercial, and government sector, whom we have provided an effective security solutions to their satisfaction. We offer standard and tailored security solutions, designed to be effective and budget friendly. Whatever are your needs feel free to ask for advice and our expert security consultants will reach to you in shortest possible time.
OUR SERVICES
Manned Guarding
Our highly-trained security guards can take on any given task while meeting the security program objectives. Security personnel is equipped with the high quality uniforms, accessories and defensive gear. We monitor performance of our guards with the latest technology to make sure our clients are served to their needs.
Technical Security Solutions
In order to improve and extend the reach of our security solutions we integrate them with the latest technology. Whether you need deterrent element, surveillance, detection or security guards monitoring system our experienced technical team will propose the best solution to match you specific requirements.
Consulting and Investigations
With more than 15 years of experience in security industry our skilled consultants and investigators will certainly fulfill all your requirements. We have risk and vulnerability assessment experts to propose perfect security solutions to match your requirements. Our investigators work closely with Tanzania Police Force and other relevant institutions to provide you with any information you may need.
Warning: Any Job Vacancy Requesting Payment is a Scam
Get Notifications Faster by:
(Visited 2 times, 2 visits today)